I'm a skinny guy. My weight barely reaches 63 kilograms immediately after Christmas. That's because of the skin pig I eat.
Yes. I eat the skin of the pig. Judge me!
…but usually, my week passes by with me eating scarcely during the day.
I usually take a bagel or some sandwich if I'm on the road. I don't really stop except for gasoline and water. I barely pee when I'm driving. That's why everybody hates travelling with me.
One could say that I'm cheap, though I'm not. On top of that, while I'm away I have the privilege to treat myself, in the limits of decency, while the company pays. But I do not push those limits so sometimes I like to eat once per day (in the evening) but to be a nice one; eventually with a nice bottle of wine on the side. Because I don't eat much, I like to taste things. I'm not that kind of a guy to like the big plates, resembling mount Everest. You have your first star from me if you manage to give me a plate that I can eat, without anything on it in the end and without me falling belly up like Jabba the Hut.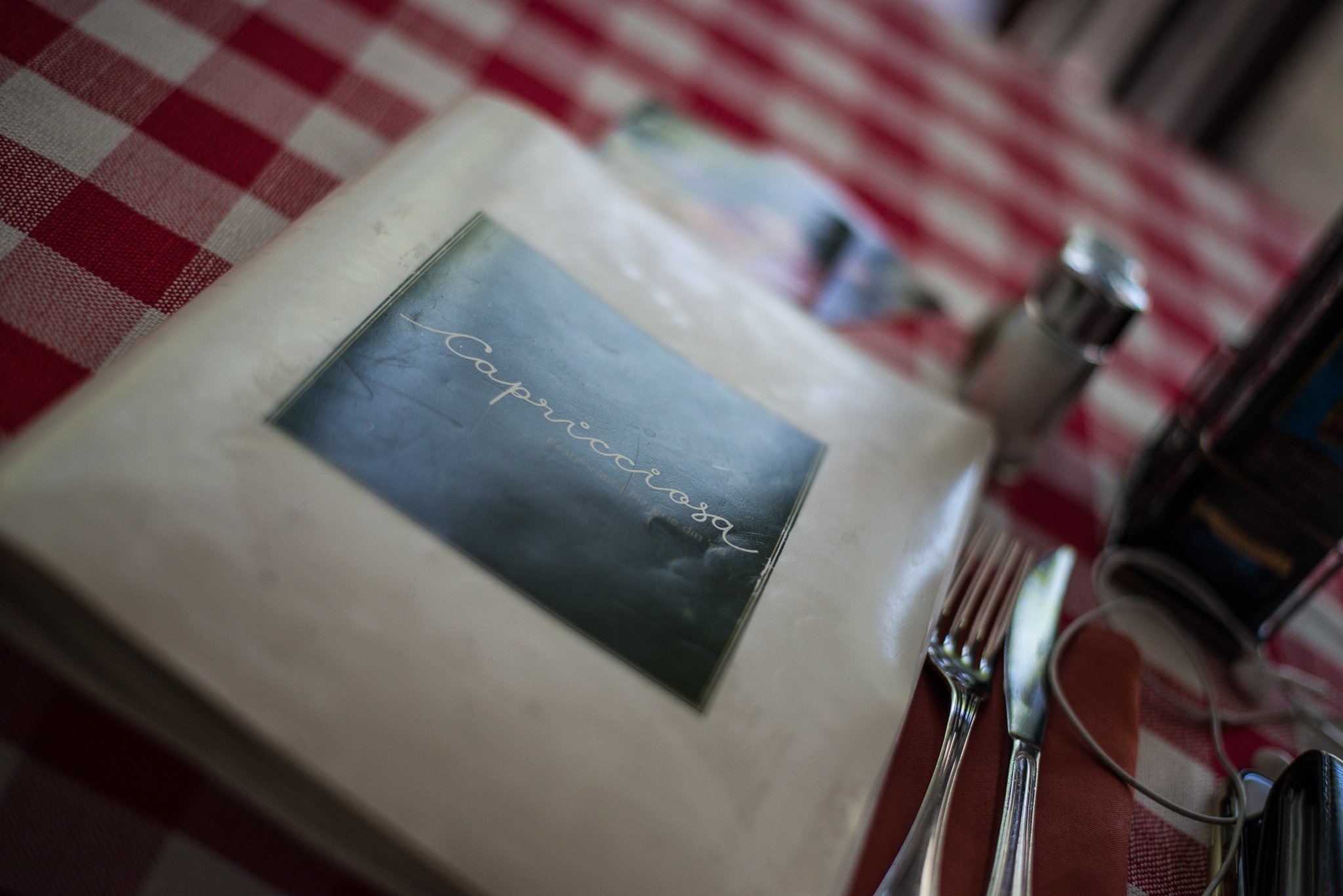 For the reasons above I decided to start having a series of articles about the places I find out about while starving and the places I love and go back to, every time I get the chance or if the right combination of factors is achieved. So here goes nothing: "Finger licking in Romania" ep. 1.

If you've just landed hungry in Bucharest, this is the place to fill your belly before proceeding on, into the heart of the city. "Capriciosa" is very close to Otopeni International Airport and with about 5-6 euro worth of TAXI, you can spare yourself the trouble to go on a drift in the city centre, from pub, to tavern, to falafel stand. Here, you can rest assured that you'll have a decent Italian dish, with the most of the ingredients made in-house and a fast service. People here have a 20 years experience with the place and their clientele is pretty much settled: from the office buildings in the vicinity and the quasi-stars of some local media trust that has their "historical" HQ in the area, they have their returning customers.
They open at 12 o'clock in the afternoon so if you're taking the morning flight, sorry guys, "Capriocciosa" doesn't do breakfast.
Reaching them is easy. If you're taking the cab just whisper to them "to Capricciosa, in Băneasa". They pretty much know the place as it's a frequent demand, especially by the locals. Practically as you enter Bucharest from the north, main entry if you're coming from the airport, the place is 300 meters away from the first tunnel you pass through. But don't pass through. Take the right lane, get on the intersection ABOVE the tunnel and make a right turn.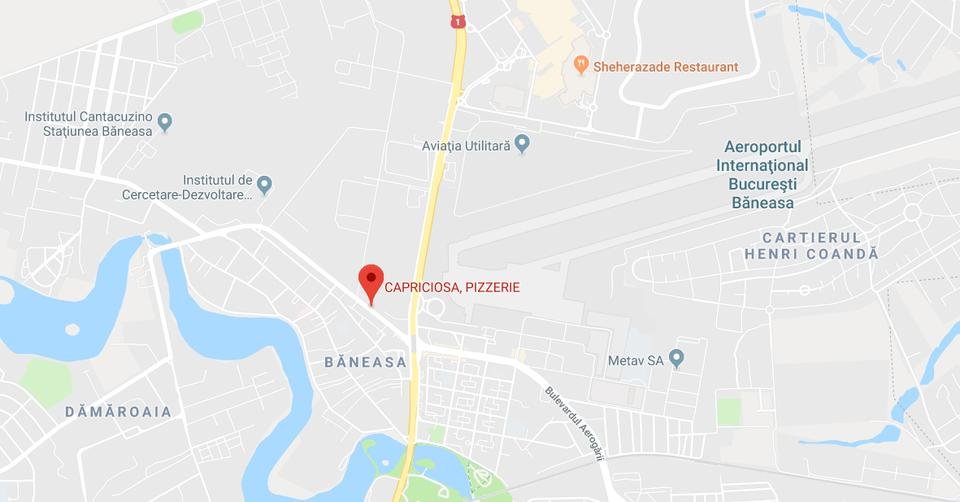 When you turn right, you have to be careful not to pass it because it's very low profile. The first time some clients took me to lunch here and as I was entered, I had the same tendency to judge a book by its covers but I instantly fell in love with the food here.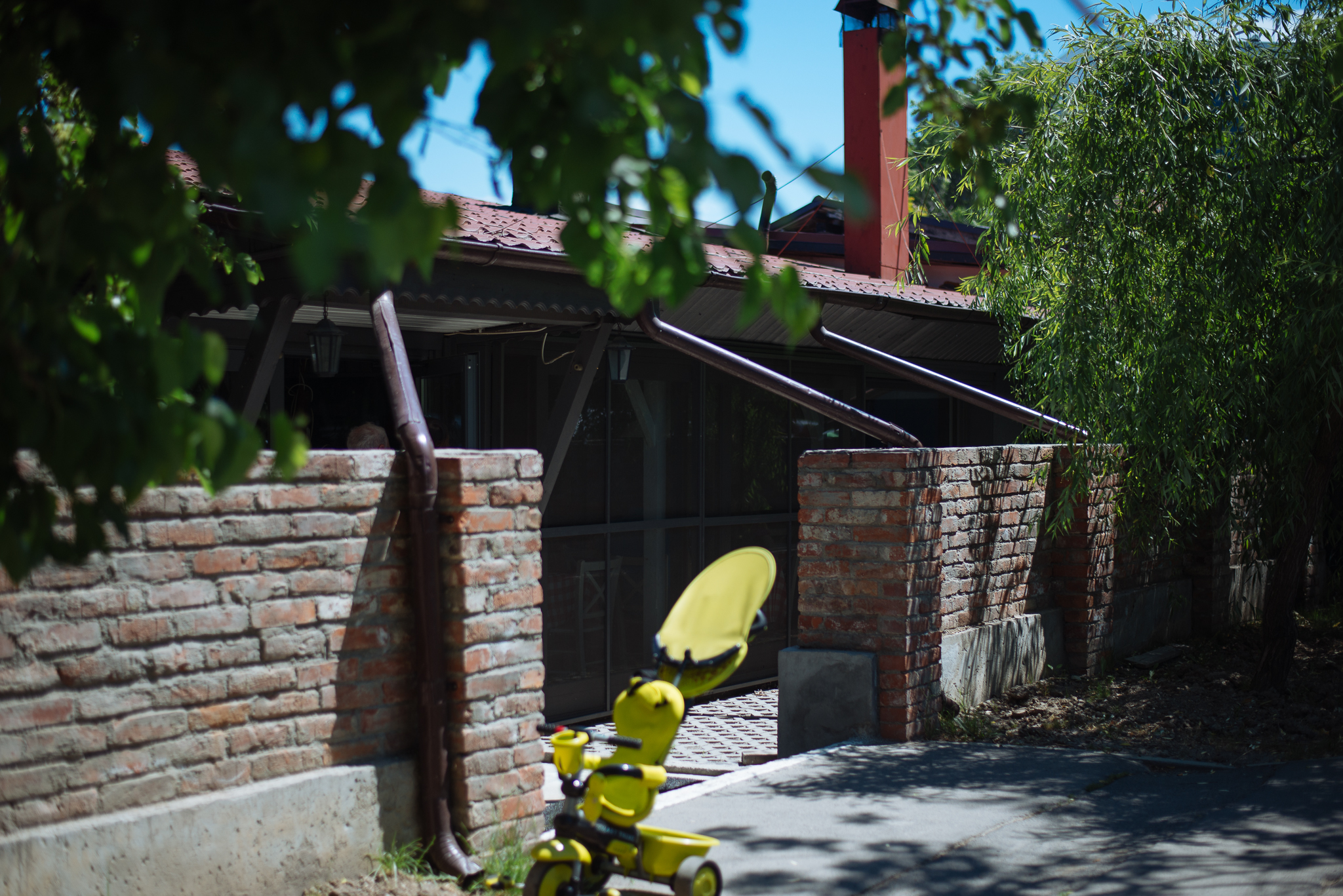 Anyway, you have to be careful not to miss the only (paid) parking, right after the place. If you miss it then you'll have to assume leaving the car (in case you are with the car) wherever you can find some spot to crawl it into.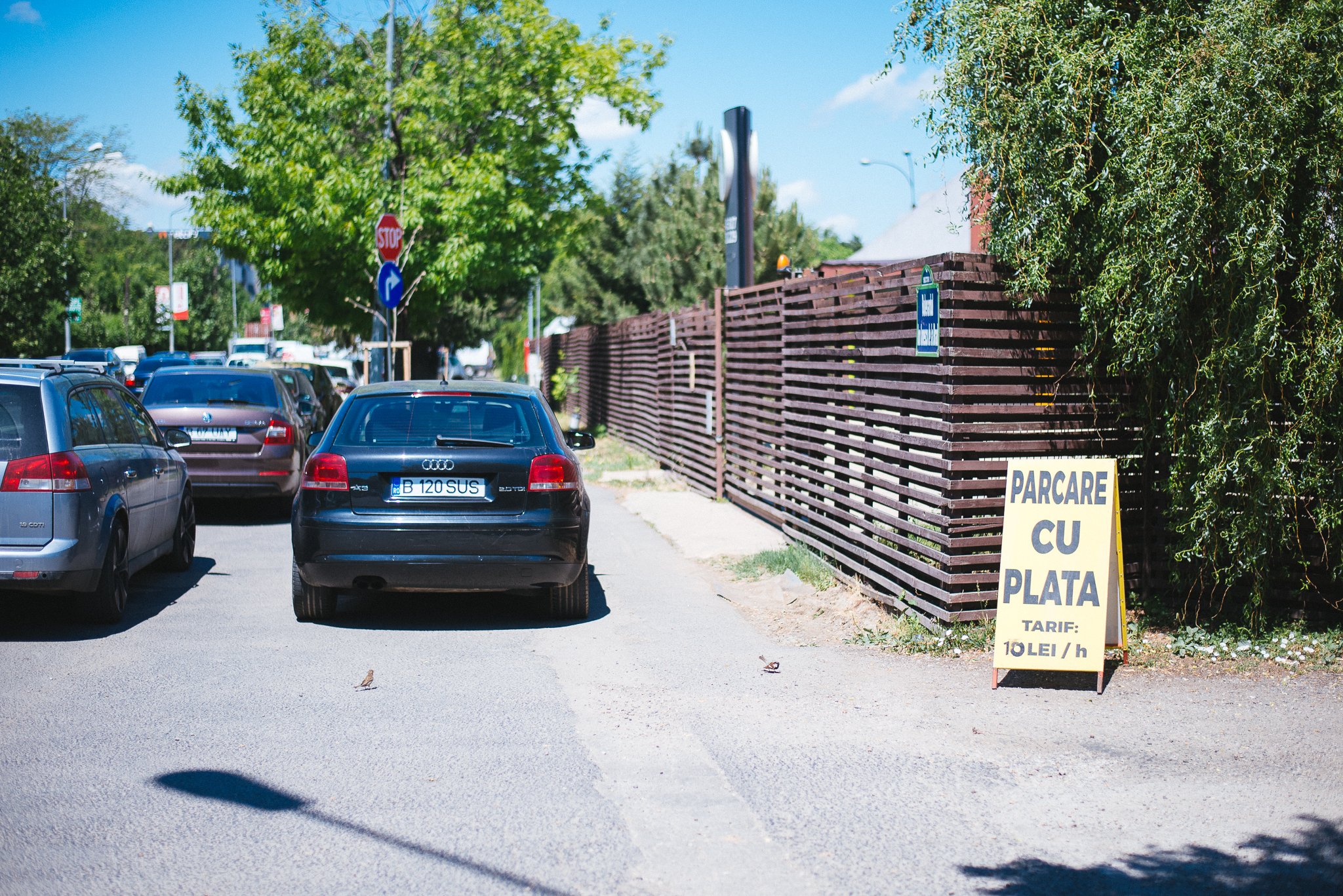 The place is not necessarily fancy or expensive but it's not the typical dump that serves some pizza made in the electric oven. They have a pretty high standard, especially in pizza's and in pasta.
Their pizza is exquisite by my taste. Normal size, eatable by two adults in order to be able to play with different other dishes. Wood oven, thin crust and not at all crowded. They have an open bar for starters and you can ask the waiter to get you served with multiple things that are in the bar. They'll make a price for you for that. It usually won't go over 8-12 euro but for sure, two will be satisfied with it.
For this visit, that I did to them a couple of days ago when I was roaming through Bucharest, I took as a starter the "Tortino di melanzane con mozarella su velutata di pomodoro". I had no idea what I was ordering this time but as I was alone, I decided to improvise for the starter. And with the mozarella there I couldn't go very wrong.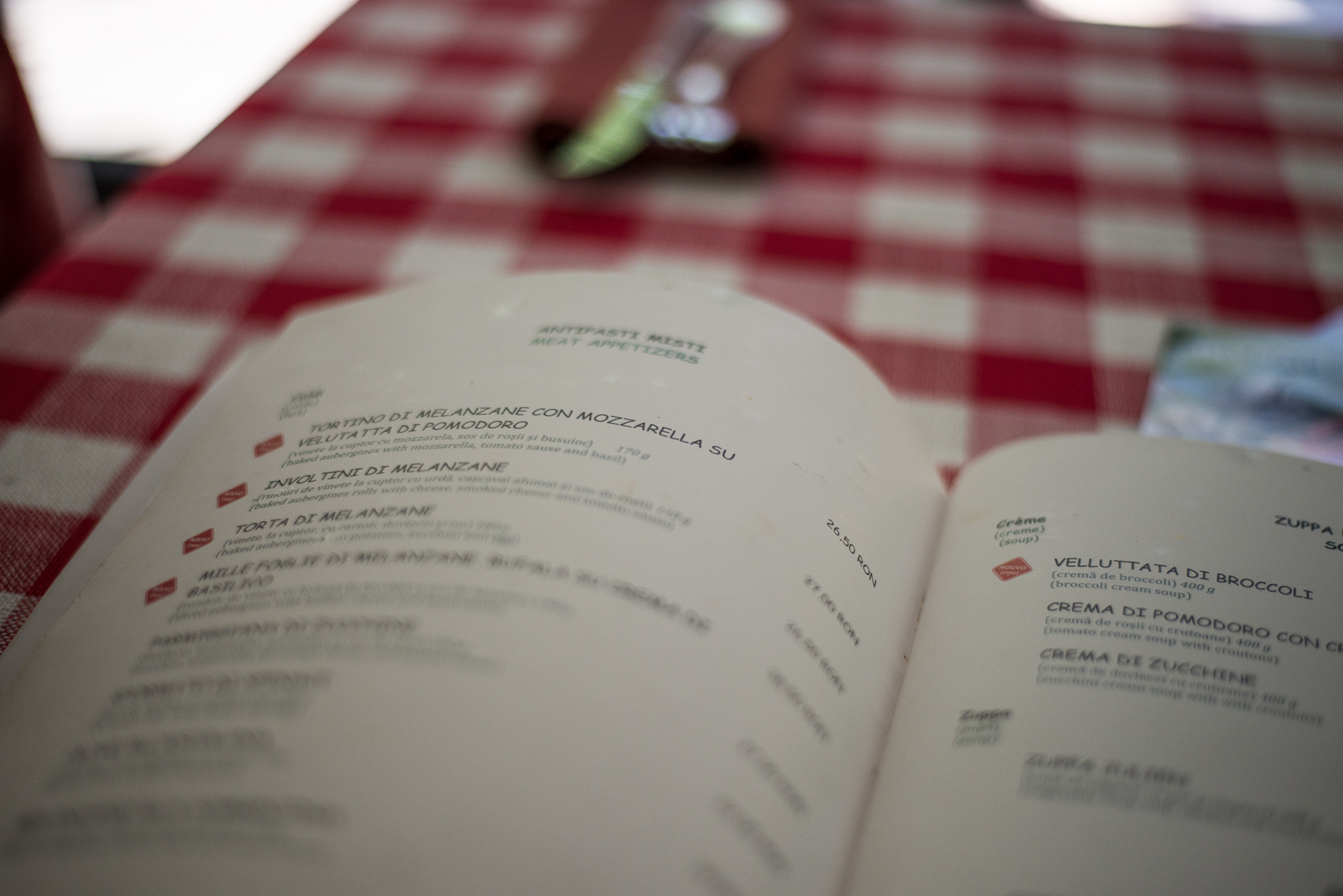 As I was sipping my Coca-Cola at peace, taking advantage of the fact that none of my mobile phones was buzzing, I even had the time to make some Steemit plans in my head. It was about 12:30, they barely just opened the place and there was only one more table apart from mine. Though the staff is nice all the time, at the time of opening they are even nicer. It's a plus if they get to know you, of course.

The starter was not a failure as I love mozzarella starters. At least these guys can't disappoint me when it comes to cooking mozzarella, I know that. Loved every inch of the dish though maybe for the fine artists of the craft, the plating was not sublime. After all Italian food is not necessarily the best looking, but for sure is among top 5 in taste.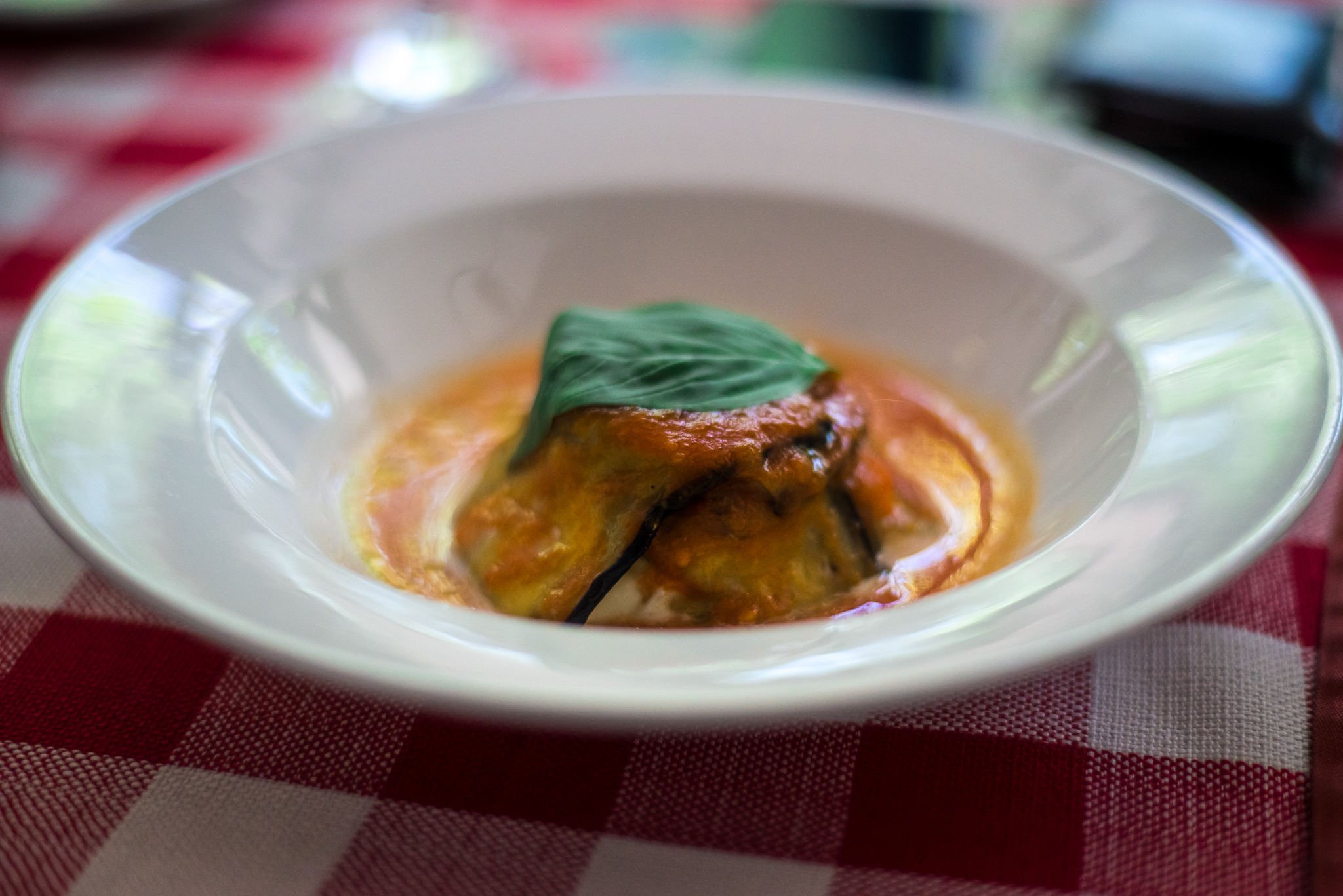 The pasta they serve here are among the best one can have in Romania for sure. For me, that I'm a regular client because I'm passing by sometimes daily, it's easy to choose because I've tried them all. But for someone that comes here for the first time, they would probably tend to play safe. Listen to my advice: don't. I know their pasta menu is quite thick but don't be afraid to go on and try their house-made ravioli. They're to die for.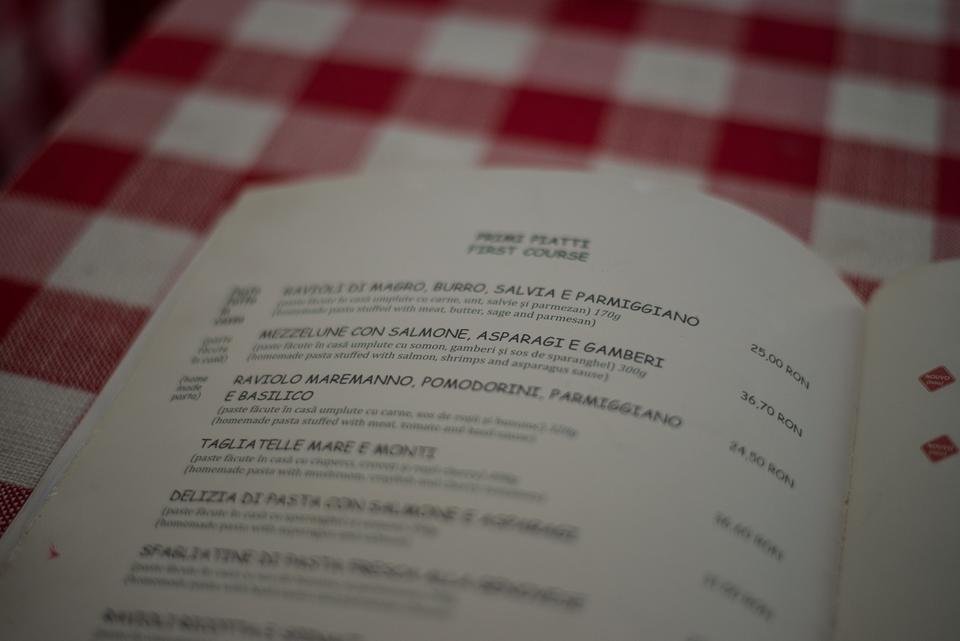 I went with a classic for me this time: the "Delizia di pasta con salmone e asparagi". 3 big, salmon-filled ravioli. Baked cherry tomatoes. 2 shrimps. Asparagus. One word: GREAT!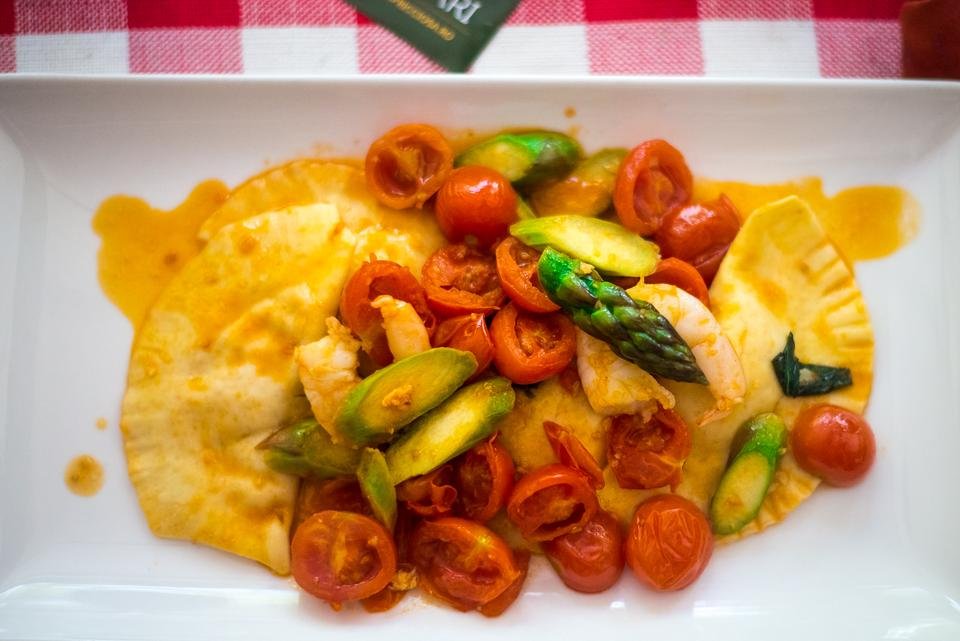 At about 13:15 I left the place. I spent about 45 minutes, maybe 15 minutes more than in McDonald's if I stopped. Twice the money probably but twice the satisfaction. Came hungry, left the opposite. But not satiated, not overflowing. Of course, a good glass of wine would have come great but It wasn't the time for that, nor the place. Their wine selection is not the best you could get for the same amount of money.

Their desserts are not the best, I'll give them that but they will most certainly silence the sweet tooth you have, if any. For me, they remain the restaurant that took my virginity in "Cannoli" business. Here is where I first tasted those damn Italian deserts. And I drooled for them days in a row until I went back to eat that dessert again… and again (I make food fixations for a while, you'll get to know me).
In the meantime, I got to eat cannoli from other restaurants as well and even brought from Milan airport, from the "La Nona" pastry place. Different level, different school. Even with the flight in between, those damn dick shaped desserts still leave water in my mouth every time I think about them.
So I never leave this place without buying some.
And if I'm alone, like I was today, I always buy one for @thegreywidow.
First of all because, after I lost my virginity, I brought her to lose her cannoli virginity here; she loves me this much 🙂
And second, because ancestrally speaking, a man's gotta bring home the food, right?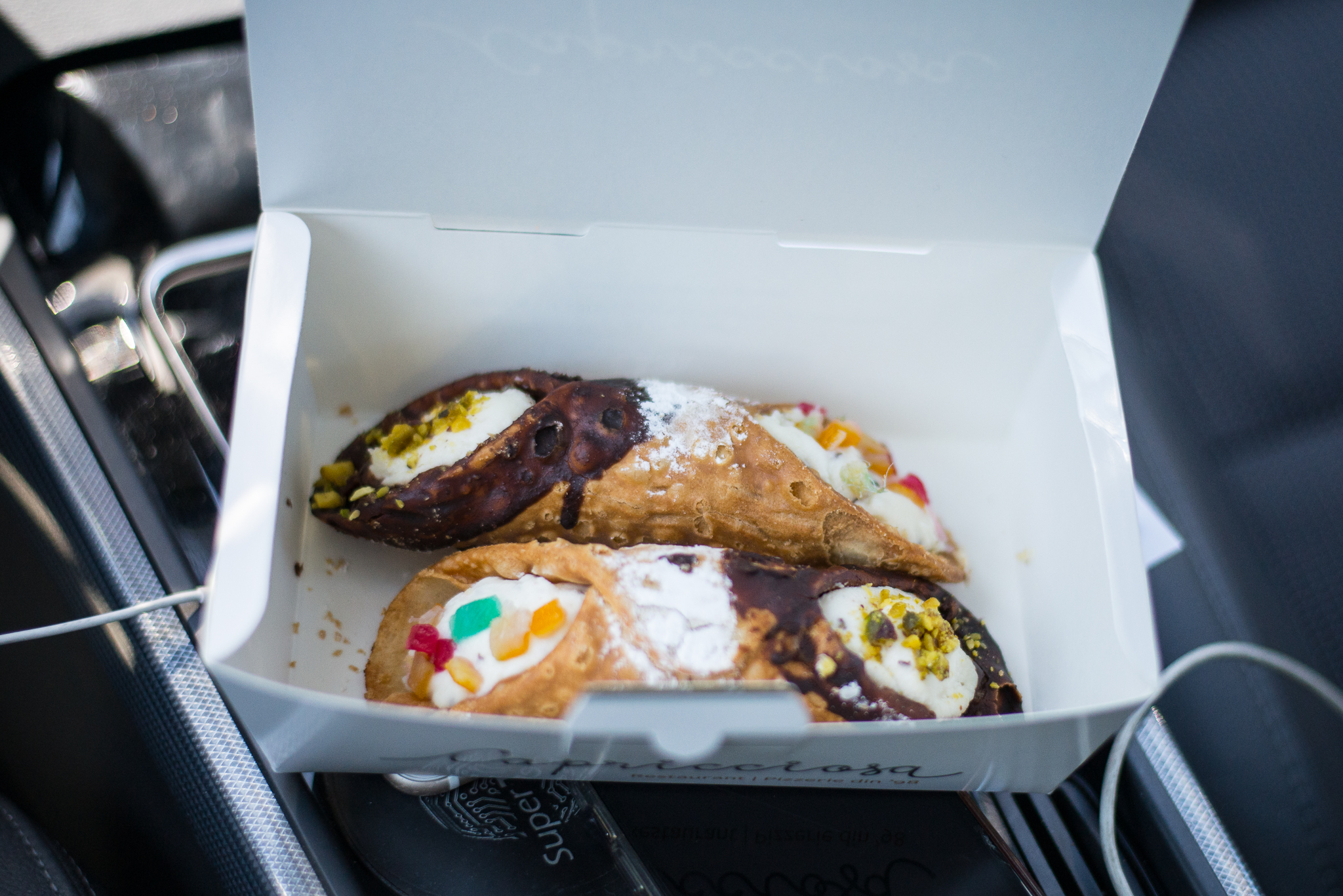 If you want to find out more about these guys before you visit them make sure you pass by their website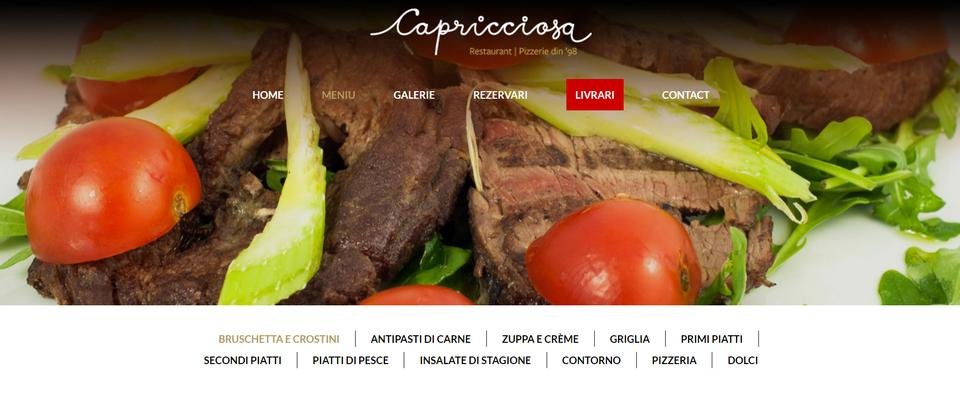 .